Are you considering surprising your mom with a sweet birthday message 💌 but unsure how to start? Do you want to send your best friend who's now living abroad a memorable birthday message to reminisce about your best times together 👯‍♀️ but don't know the right words to use? Worry not! Gifft.me now has an AI tool that can help you make those Happy Birthday messages come to life!
It can sometimes be difficult to find the right words to express your love for the special people in your life, especially if you're not the vocal type! 😟 Luckily, technology makes expressing our feelings more attainable. 👐 With AI, you can now generate Happy Birthday AI messages that can capture your thoughts and memories in just a few clicks!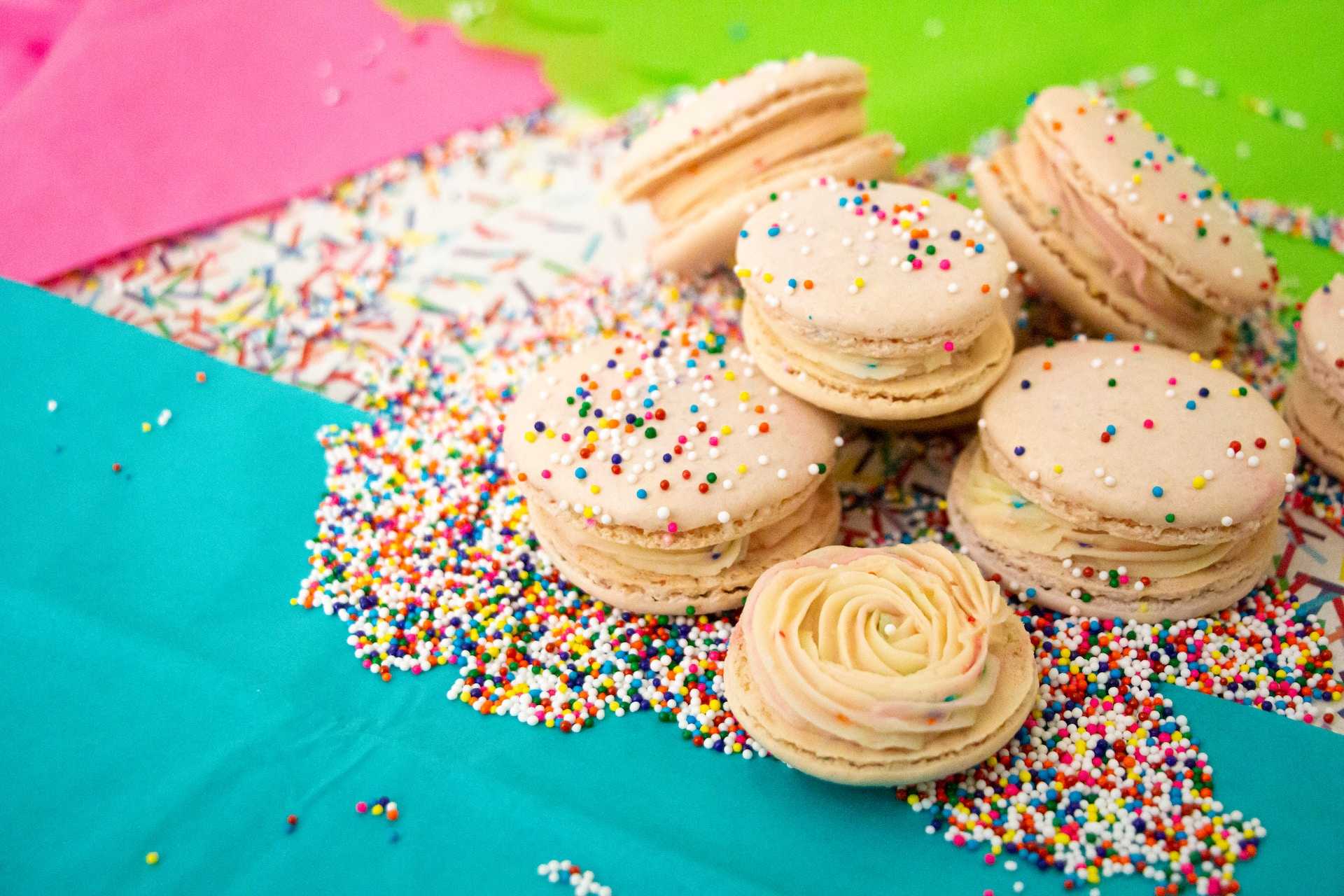 Photo by Maggie Riordan
The AI Happy Birthday Wishes Generator 🥳
Gifft.me has recently launched "Olivia" - an intuitive, easy-to-use, and funny AI tool that can help you create greetings and messages in just a few clicks! 🖱️ Worried that your messages might sound too robotic 🤖  given that a computer wrote them? Cast those worries aside as Olivia asks you a series of questions that can help her create heartfelt 💓 and warm ♨️ messages as if you actually wrote them! ✍️
Writing greetings should not be a complicated activity. As we always say, just write from your heart! ❤️ However, we also understand that it can be daunting if you're not used to expressing your feelings and thoughts through words. That's why we created Olivia! 🙋‍♀️
Whether you're experiencing mental block 🚫, you need inspiration to jumpstart your creativity 💭, or you just want help to tell your stories, Olivia can help you find a way off the beaten road of simple Happy Birthdays and create a greeting that's full of love and thought! 💗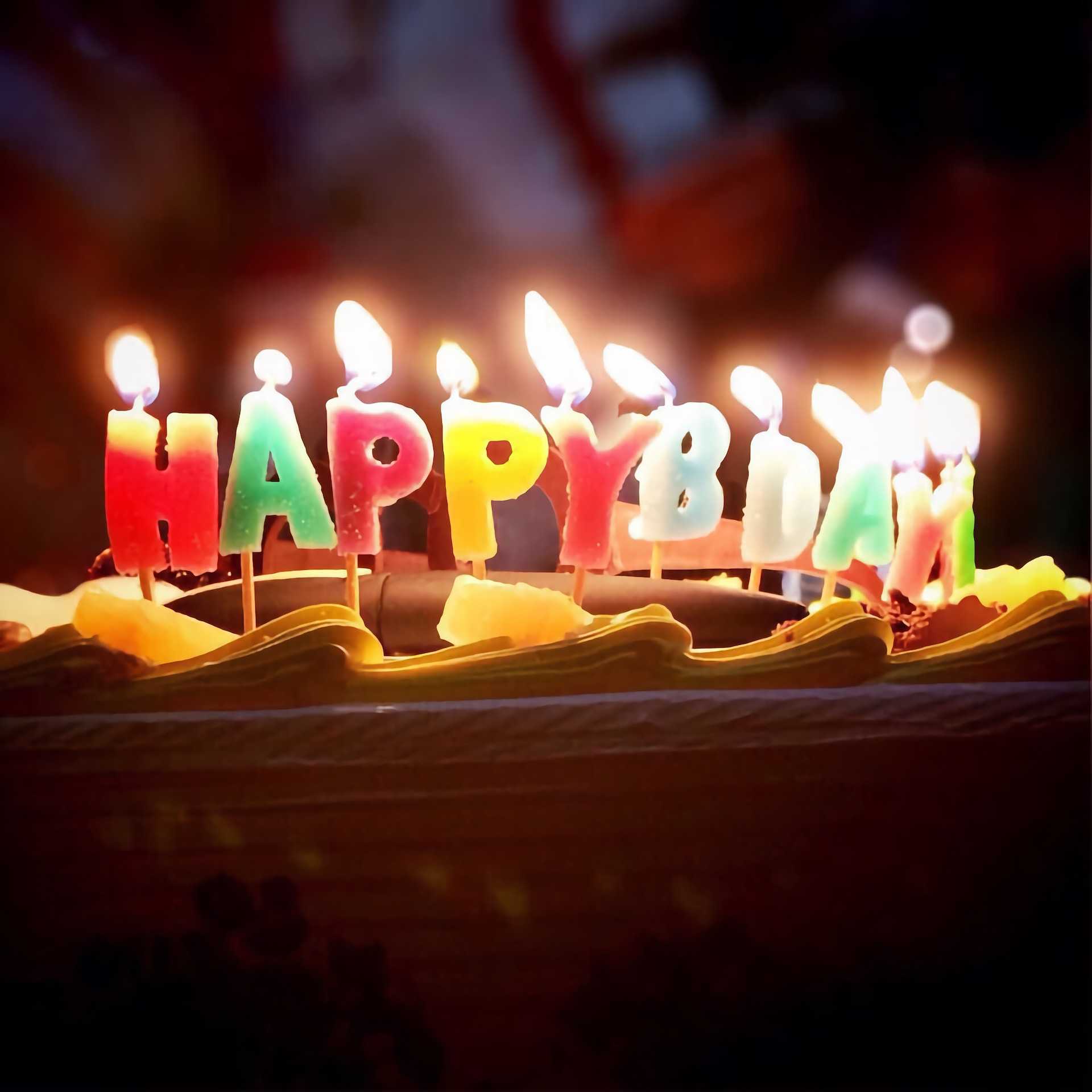 Photo by Bhaumik Shrivastava
With our recently launched AI Happy Birthday generator tool, you'll be the life of the party - crafting the best Happy Birthday messages and wishes perfectly tailored for the birthday girl or birthday boy! 🥳 Now, you'll quickly get original, funny, and witty wishes to share with your family, friends, and loved ones - all for free! 🎉
You can also look for some inspiration in our collection of happy birthday greetings! Check out: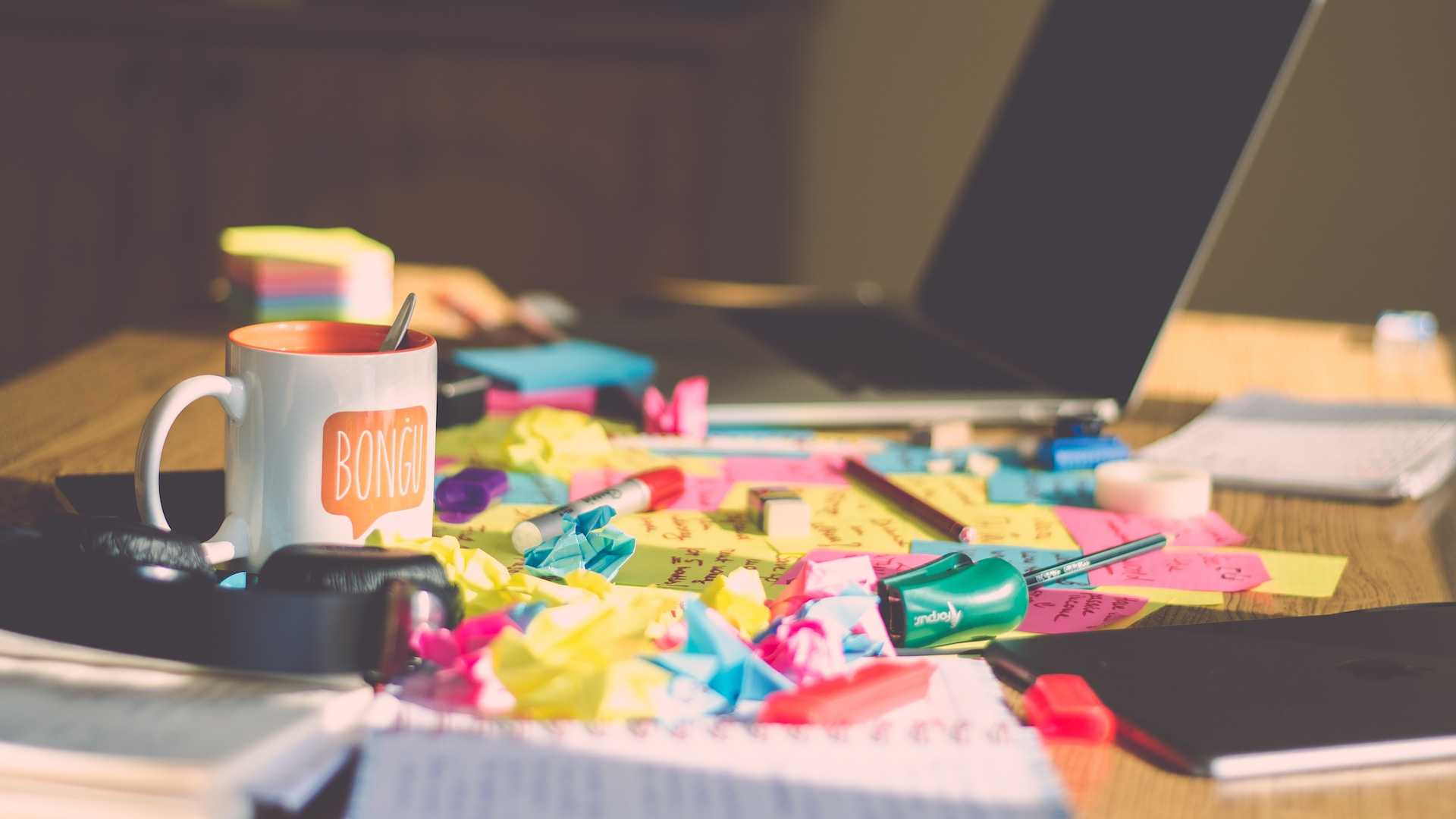 Photo by Ferenc Horvath
How to Use the AI Birthday Generator
Don't worry if you're not the techy type! Gifft.me's Happy Birthday Wish generator, Olivia, is extremely intuitive and easy to use. Expect to receive a series of prompts 🧑‍💻 which you will have to answer so that Olivia can create an AI-generated Happy Birthday greeting that is tailored for the b-boy or b-girl. 🎂
Some of these prompts are the name of the recipient and your relationship with them. ✅ It will also greatly help the AI birthday generator if you can add things like their hobbies 🤺, their favorite food or series 🥯, some funny history 🤭, and what you like most about the celebrant. 😻
The AI birthday message generator will take all this information and, just like magic 🪄, will create an amazing Happy Birthday wish that not only reflects the birthday celebrant and your relationship with them, but is also full of wit, humor, and good vibes ☮️ 😎. Remember to be as detailed as you can when answering the prompts so that your message is also as personalized and heartfelt as possible! 👈
What are you waiting for? Send your upcoming birthday celebrant a Happy Birthday greeting through Gifft.me's birthday wish generator which is highly optimized to create custom Happy Birthday messages that are funny 😂, tender 😊, loving  🥰, and, above all, thoughtful! 💖 Plus, it's completely 🆓 to use! 
Know you can send all your messages with our free virtual gifts!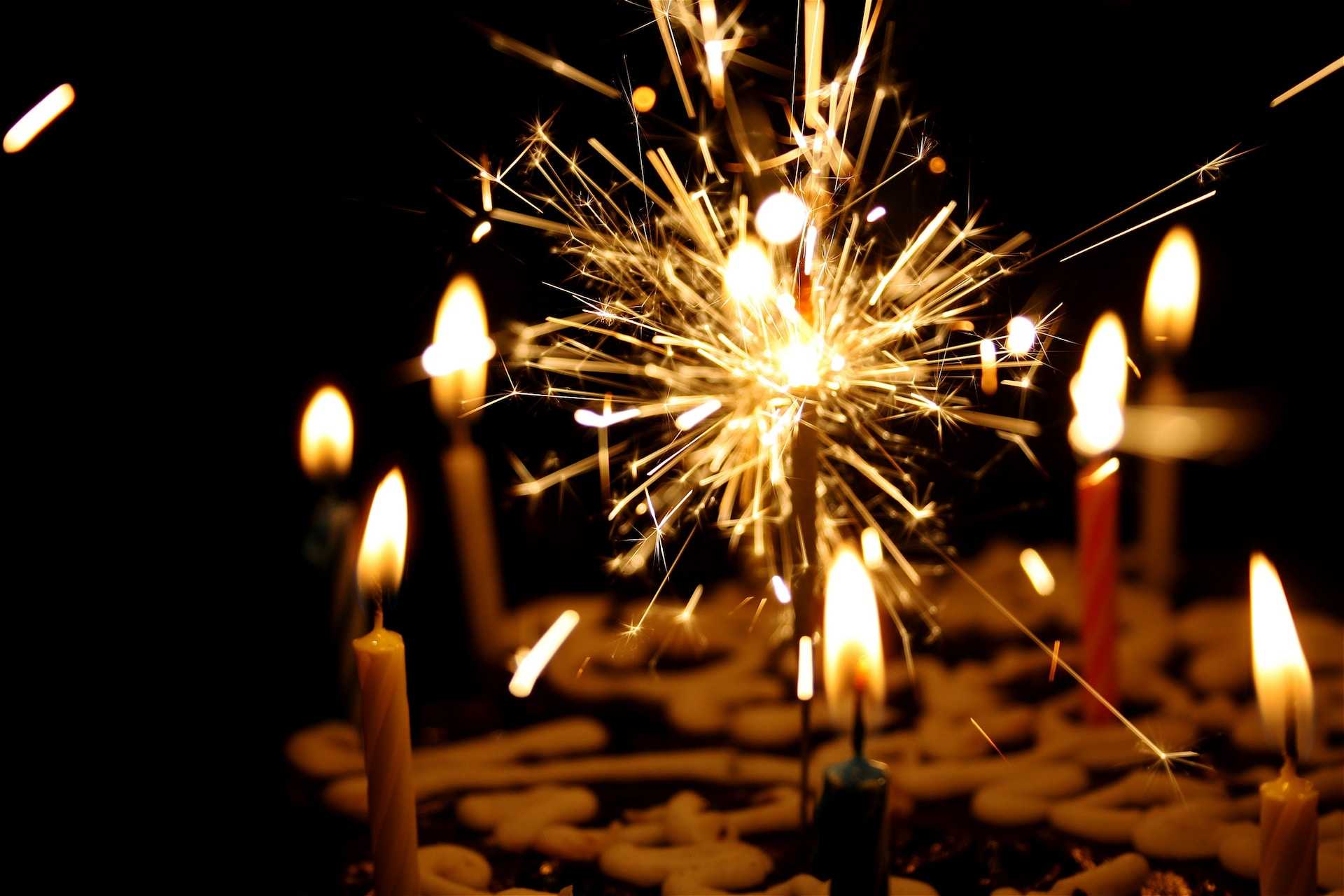 Photo by Nikhita Singhal
A Step-by-Step Overview of the Birthday Message Generator UI
Ready to immerse yourself in the fun and advanced technology of AI-generated Happy Birthday messages? 💻 Here's a step-by-step guide on how to start creating Gifft.me's Happy Birthday AI messages! ➡️
Start by meeting Olivia, Gifft.me's trusty AI! Once you see her, click "Get Started" 🟢 to be directed to a list of different greetings that she can help you make. 🤩
You can now choose what you want to write! ✍️ For fun and witty birthday messages for your loved ones, click on "Happy birthday wish". 🎂
Once you click on "Happy birthday wish", there are two steps that you would need to complete to generate your personalized Happy Birthday message. 😌
The first page lets you fill out the basic information of the loved one you wish to greet. 📜 Here, you will fill out your relationship with them, their name and age, and other fun details that you wish to be incorporated into your message. Don't be afraid to describe them in detail under the "Tell more about this person" section - this will help Olivia craft more personalized messages. ⌨️
You can also specify under the "What to wish?" section your hopes and wishes for the birthday celebrant. Feel free to choose as many as you like! 💰☮️🏆 Lastly, write your name so that the birthday boy or girl will know from whom the message is!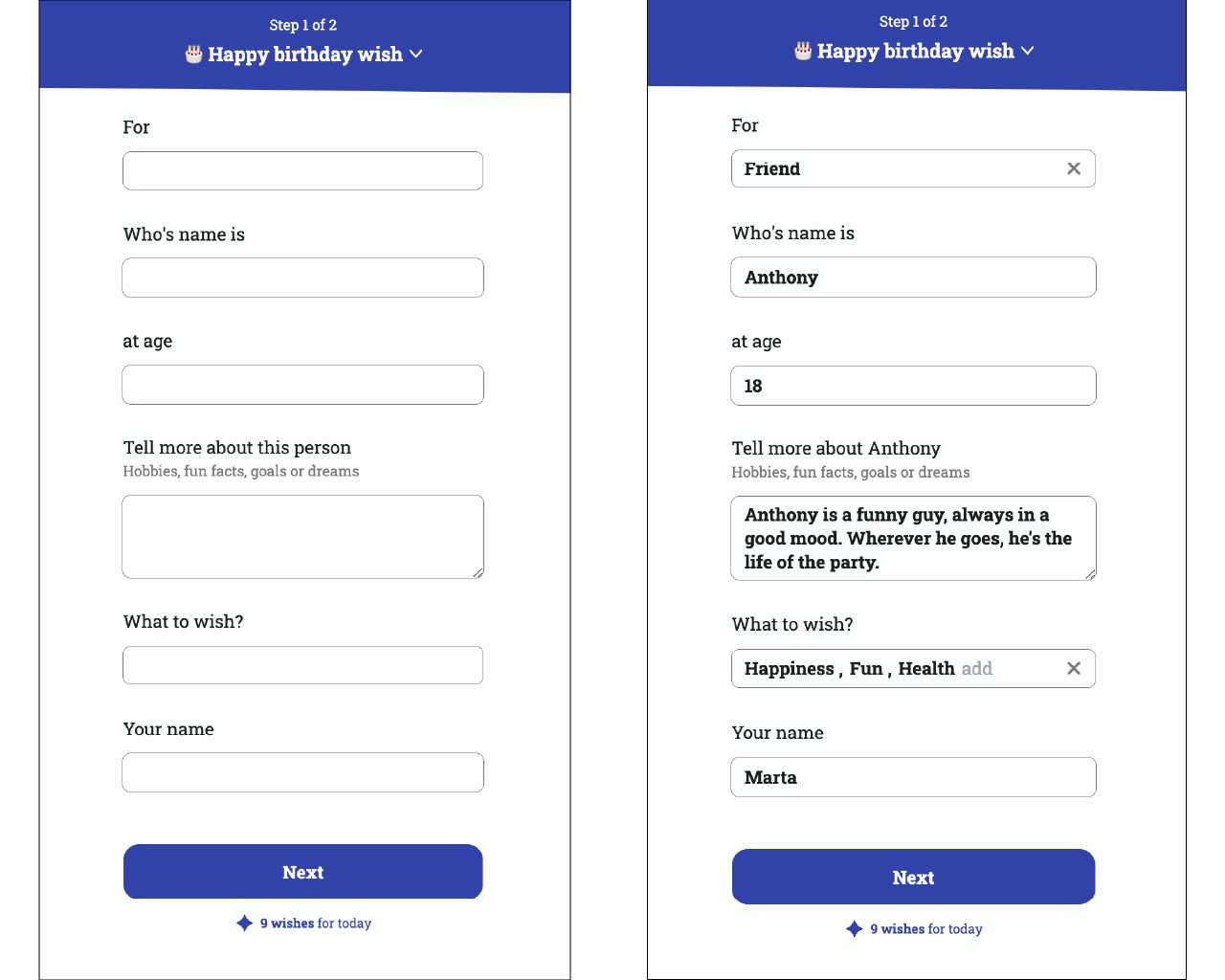 Upon clicking next, you'll be directed to the second and last step - the review of the birthday celebrant's details 🙂 and setting of the message properties. Here, you can review the details that you provided on the previous page. ✅ If anything is missing, just click "Edit prompt" to update the details. Alternatively, you can click on the "Back" button to edit the prompts from the previous page. ⬅️
Aside from reviewing the details, you would also need to set the mood you want Olivia to use for your message. For close friends, you can choose funny or crazy to show your fun side! 🤡 For your partner, you can opt for a more romantic birthday greeting. 💓 For your colleague, go for a more friendly or serious tone.
Specify the message length you want - short, medium, or long - and the amount of emojis you want Olivia to use. 😎 You can choose to have no emojis for a more serious greeting or lots of emojis for a more fun message!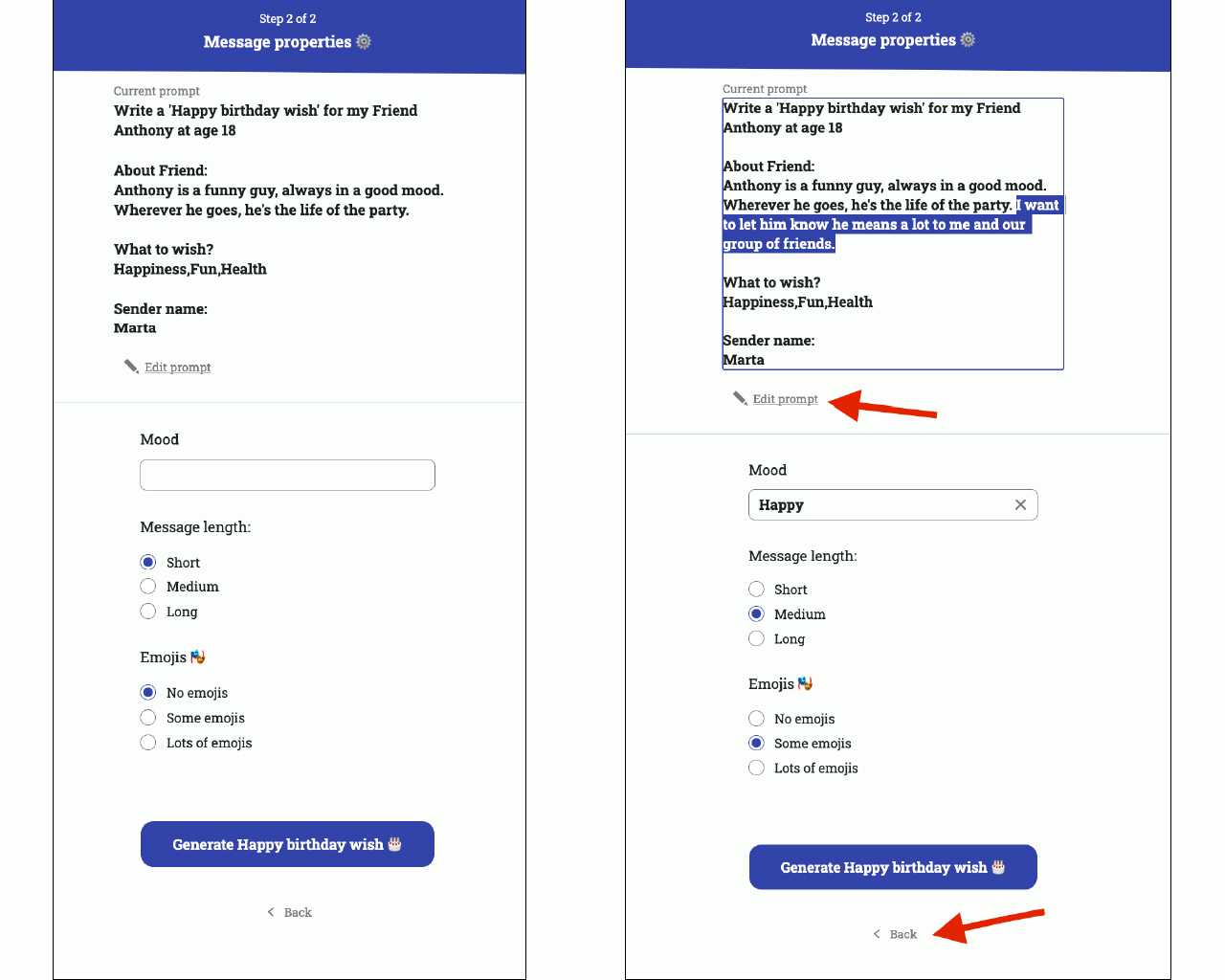 Once you're satisfied with your answers, click on "Generate Happy birthday wish" and allow Olivia to work her magic! 🪄 In just a few seconds, you will see Olivia typing away the message you helped her come up with!
If you're not quite content with the message generated, don't worry! You can click on the numbers 🔢 below the message to view the alternatives to the birthday greeting. However, note that each alternative consumes 1 wish - and you only have 10 per day! 👈
You can also click on "Edit prompt" to go back to the previous page and update the details for a more perfectly fitting message. 💯 The option to "Generate new message" 🔄 is also available if you decide to generate another type of greeting instead of the current birthday greeting (in case you want to send a birthday joke instead!).
Once you're happy with the message, click on "Copy text" to instantly copy the message so that you can paste it wherever you wish to send it - through social media DM, SMS, or email! ✉️ For a more fun Happy Birthday greeting, why not try sending your message as a virtual gift? 🎁 Clicking on this will direct you to Gifft.me's wide array of virtual gifts that you can use to package your lovely birthday greeting!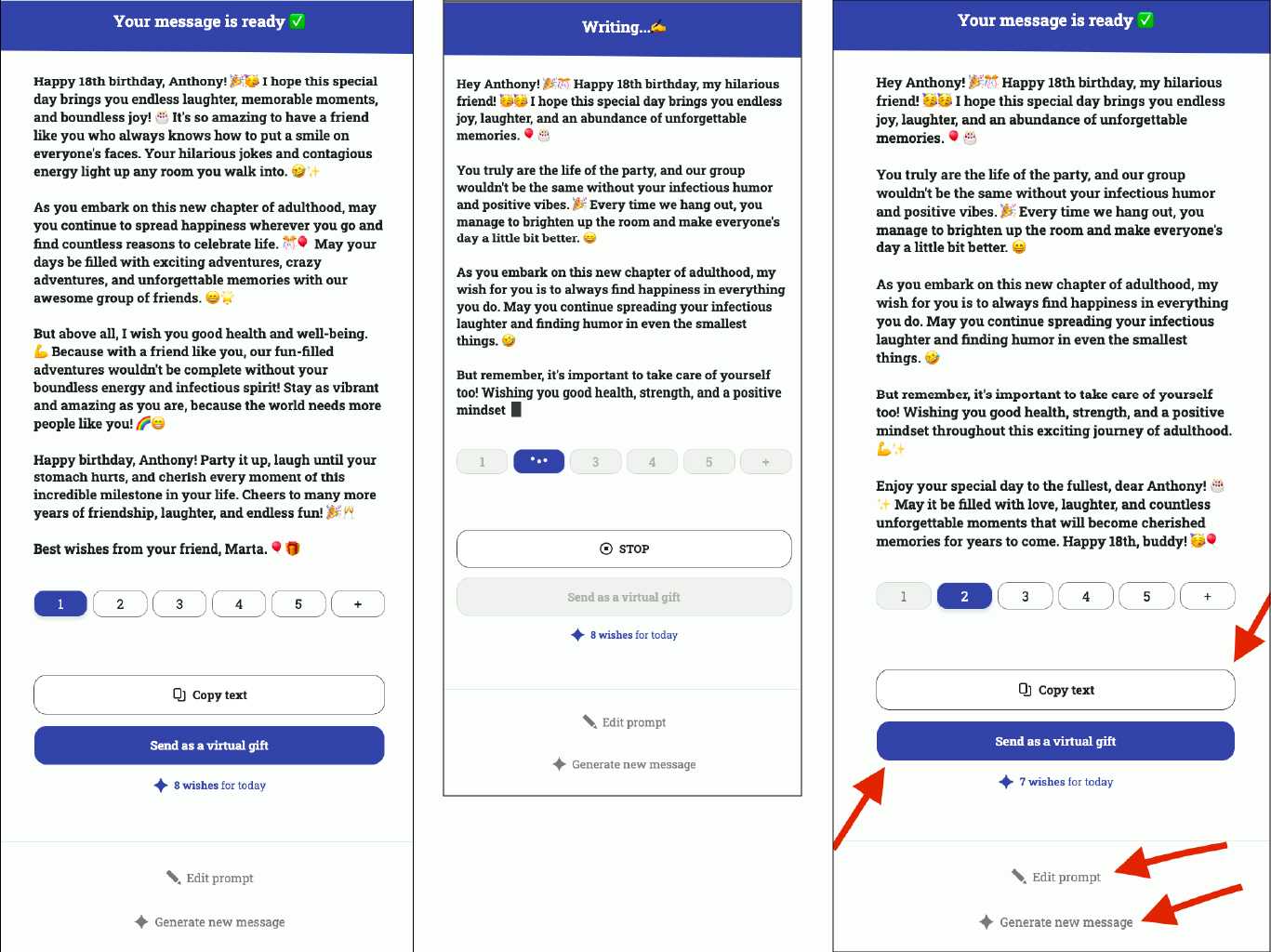 With Gifft.me's easy-to-use AI birthday greeting generator, you can craft a Happy Birthday message in just a few clicks! Plus, you don't have to worry about sending a generic message - the prompts that Olivia asks guarantee a personalized message that the birthday celebrant will surely love! 🥳
Some Tips to Use the AI Birthday Wish Generator 
Unsure of how to start creating a heartfelt and personalized AI-generated Happy Birthday Message? Here are some tips to keep in mind to help Olivia craft the perfect message!
The most important thing to remember is that the details you provide are key! 🔑These are the foundation 🏛️ from which Olivia will work to create special, one-of-a-kind birthday wishes. Don't worry about over-sharing - details are never too much! 🔎 For instance, don't just write that the birthday celebrant loves basketball. 🏀
Tell Olivia that they're capable of 3-pointers without sweat! Include what they identify themselves to be like if they're Potterheads 🧙, K-pop lovers🕺, or even foodies. Your Happy Birthday Message will certainly be more personalized if you tell Olivia about that time your birthday boy ate an absurd amount of sushi last year! 🍣
Providing more details to the AI generator will make your Happy Birthday message appear more authentic. 💎 By sharing lots of fun information, the birthday celebrant will be able to relate to the message better! It's not just a greeting but also a token of your love, care, and appreciation for them on their special day! ❤️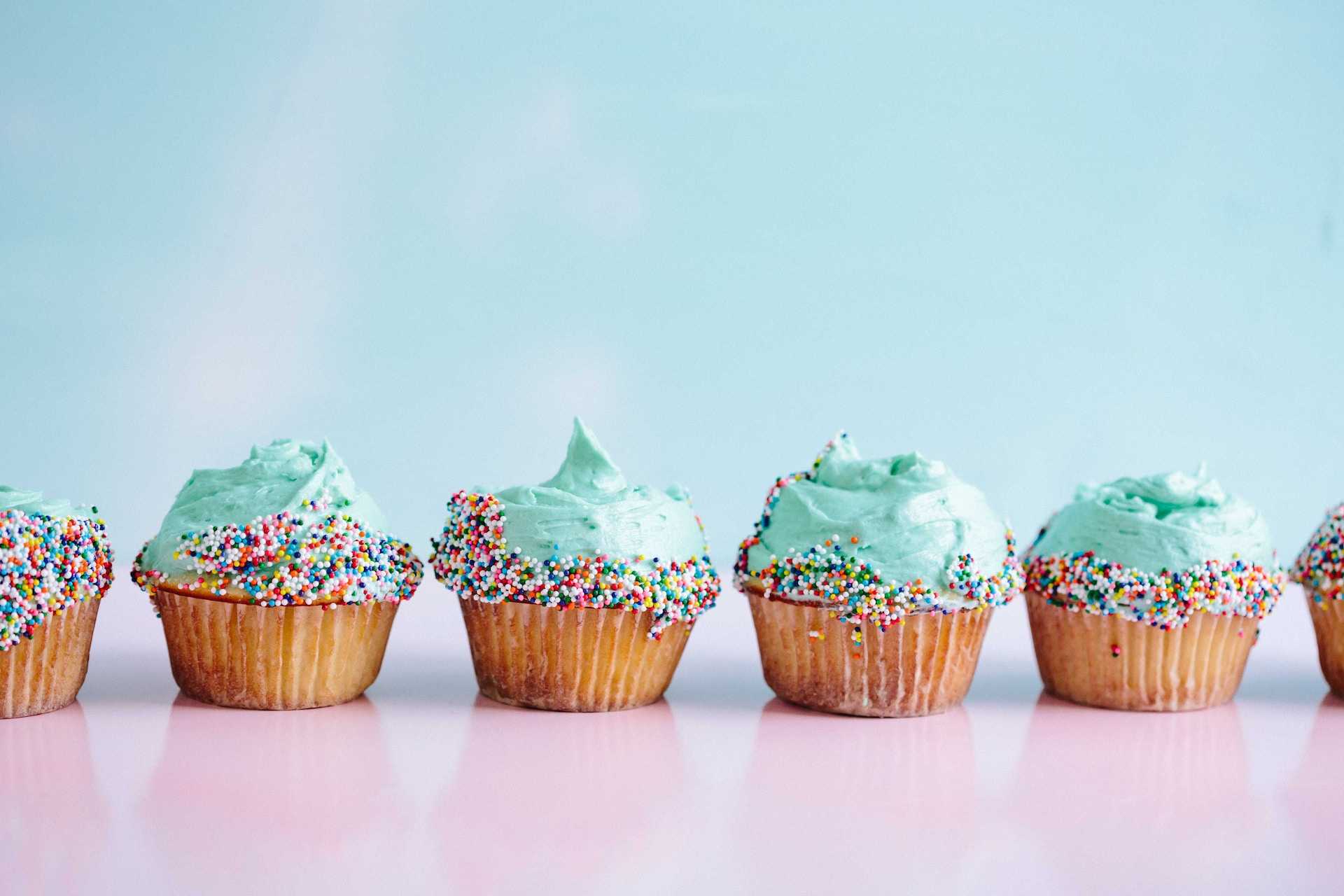 Photo by Nikhita Singhal
When to Use our AI Happy Birthday Generator
Perhaps, you may be thinking: "This is it - computers are ruling the world!" That's a fair concern, especially that the most genuine interactions we make such as greeting a person for their birthday can now be done by AI. 🤖 It's important to remember, however, that technology is designed to help us. After all, our AI generator wouldn't work without your help! If you allow yourself to accept the tools that technology provides 💻, you can do a lot of things that are usually out of your comfort zone (such as writing Happy Birthday messages!).
If you're not much of a writer, or you don't know how to express your feelings through words, Gifft.me's AI generator would definitely be a great help so that you can still express your love and care to the people who are important to you. 💝 With just a few clicks and prompts, you can craft a personalized message that still feels like it came from you - all without having to undergo all the stress of writing!
See what Olivia is capable of with your own eyes!
Happy birthday, Dad John! 🎉🎈 Wishing you the most fantastic day filled with joy, laughter, and lots of fun! 🎂🥳 You deserve all the happiness in the world, especially on your special day. May this new year of your life bring you countless fishing adventures and precious moments spent with your beloved dogs. 🐟🐶 Thank you for always being an incredible Dad who has given so much love, support, and guidance. You're absolutely amazing! 😊💙 As you turn 49, I hope you continue to embrace life with your contagious enthusiasm and passion for the things you love, like fishing and spending time with your four-legged companions. Above all, I wish you good health, strength, and vitality to keep enjoying every moment and creating beautiful memories. 🌟🎣 May this year be filled with great catches, incredible doggy cuddles, and an abundance of happiness. Have a fantastic birthday, Dad! Love you so much! 💕🎂🎉 - Your loving son, Nico

🎉🎈 Happy 20th birthday, my dearest Katie! 🎂🌟 As you embark on this exciting new chapter of your life, I want you to know that you don't have to face the pressure of adulthood alone. I am here by your side, holding your hand, and cheering you on every step of the way. 💕 Don't be nervous, my love, because you are truly amazing! You have accomplished so much already, and I have no doubt that you will continue to shine with success in everything you do. 🌟✨ Trust in yourself and your abilities, and remember that I have unwavering faith in you. 🙌 On this special day, I wish you an abundance of happiness, love, and laughter. May your journey into adulthood be filled with unforgettable memories and beautiful moments. 🎊💖 May you find peace in knowing that together, we can conquer any challenge that comes our way. So, relax, my darling, and embrace this new chapter with open arms. Take a deep breath and believe in yourself. This journey of adulthood will be filled with highs and lows, but remember, I am here to celebrate your successes and stand strong during the tough times. 🤗💪 Happy birthday, Katie! 🎉🌸

Dear Patty, Happy 31st birthday! 🥳 Wishing you the best of luck 🍀 as you embark on your new fashion venture. May it bring you immense success and fulfillment. Stay healthy, happy, and never stop pursuing your dreams. All the best! - Warm regards, Wilson
Try our Happy Birthday AI Generator now!

Try the Happy Birthday Wish Generator Now!
What are you waiting for? ⏳ Start gathering your thoughts and explore the amazing possibilities with our AI Birthday Generator, Olivia! Create personalized, playful, and fun Happy Birthday messages that capture your love, tenderness, and good vibes for the b-boy or b-girl. 🎉
After creating your wonderful message, send it using Gifft.me's Free Virtual Happy Birthday Gift in just a few clicks! 🎈🎈🎈🎈🎈 Let the birthday celebrant know how much you love them through Gifft.me's AI Birthday Generator and Virtual Birthday Gift - all for free! 🆓