Don't you love it when a complete stranger sincerely compliments your outfit? 👚👖 It's like a boost in confidence 😁 since someone saw the effort you put into your OOTD! Do you appreciate it when your boss tells you that you did a good job in the meeting you conducted? 📈 It's heartwarming ❤️‍🔥 to know that they recognize your preparations and efforts.
Compliments are a great way to show someone that their efforts don't go unnoticed. 👀 In this day and age, we shouldn't scrimp on the Compliments and Kudos we give - even to strangers! ☮️ If you want to find the right words 💭 to let people know that you see and recognize their efforts, Gifft.me's AI generator is here to help you create sincere AI-generated compliments that will warm the hearts of your recipients! ❤️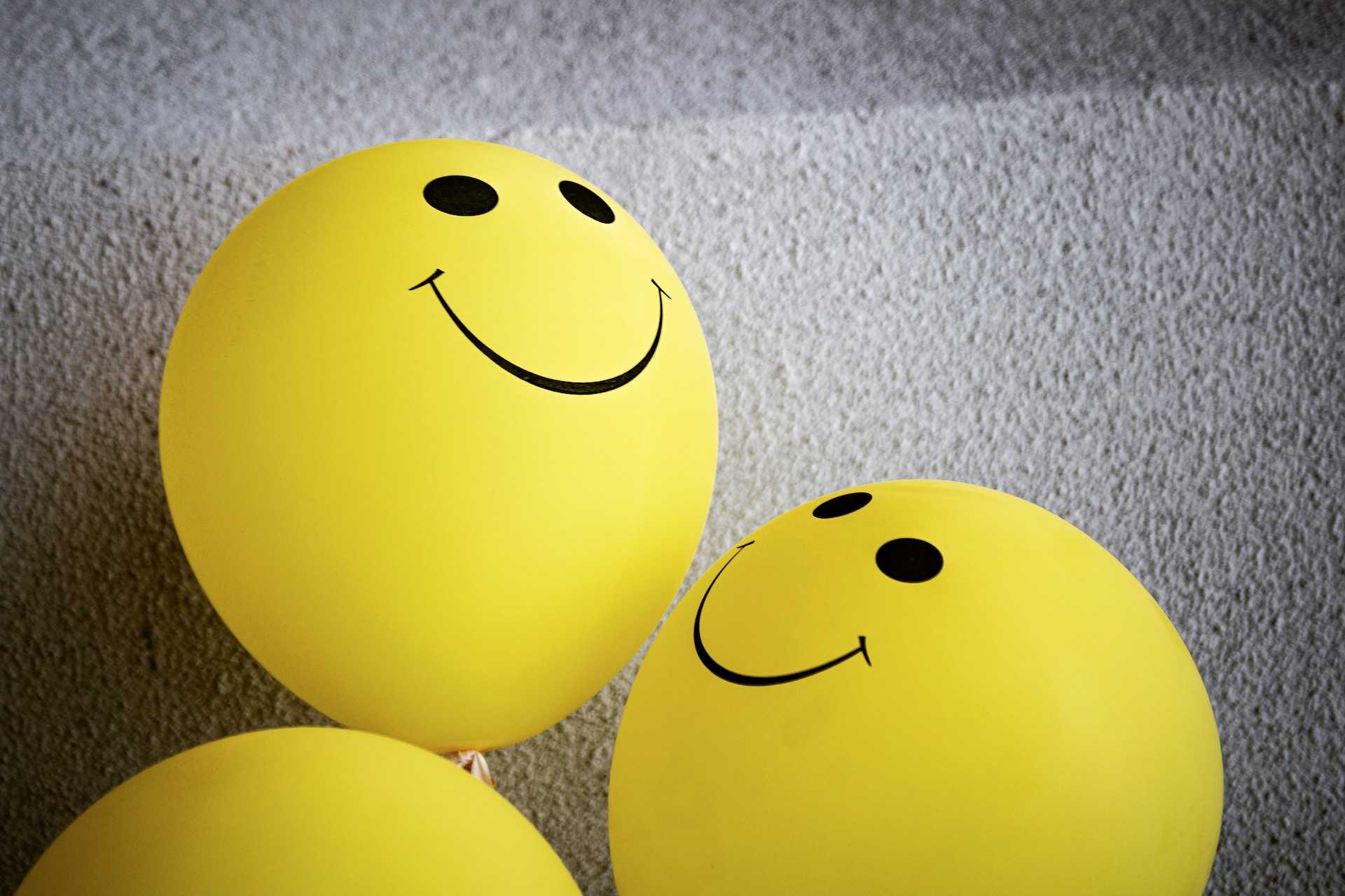 Photo by Tim Mossholder
Introducing Gifft.me's Compliment Greetings Generator
Gifft.me's AI compliment generator, whose name is Olivia, is designed to help you find the right words so that you don't have to get stressed when writing messages. 💡
With Olivia's help, prepare for a compliment experience as you've never seen before!🤩Gifft.me's AI compliment generator is here to help you spread love and positivity through words - whether it's to praise your kid's for their graduation awards 🧑‍🎓 or to recognize your mom's perfectly cooked egg 🍳!
Now, you can be as generous as you want in giving compliments to your loved ones or even complete strangers! The best part is that it's completely intuitive and easy to use! ✅ Just answer a few prompts and Olivia will craft the best compliments and kudos that you can share with anyone in just a few clicks! 🖥️
Imagine you've been meaning to tell your friend that you admire her confidence 💃 but you feel awkward saying it out loud. Or perhaps you want to tell your boss that you appreciate his kind but professional leadership. 🧑‍🏫 You may just want to say a few words for your boyfriend and send him a love message together with some praises. 🙌 If you're not used to expressing these through words, Olivia's here to help you find the right words!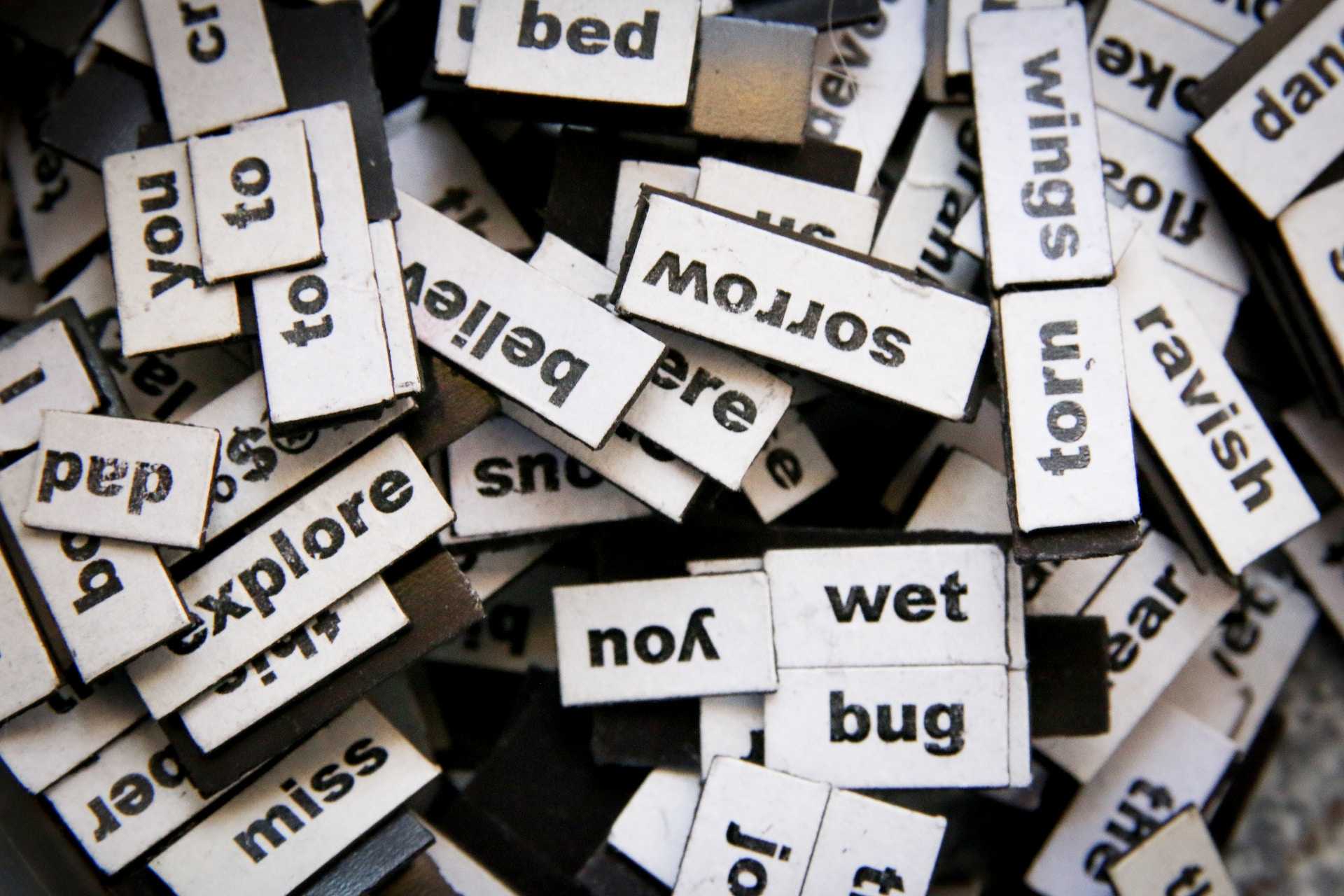 Photo by Glen Carrie
You don't have to be Shakespeare to get rid of the ordinary "That's great" or "Well done"! 🚫 Now, you'll be able to harness the power 💪of our AI compliment generator to spread love by writing the best kudos for the people around you!
Take the stress out of giving compliments and let Gifft.me's AI compliment generator, Olivia, handle it for you. Now, you'll just be left with a calm and smooth experience of sharing your lovely feelings with your friends and family. 😙
With this compliment generator, you'll be able to blow life 🌬️ into your messages, creating personalized encouragements and appreciation 🙌, uniquely tailored for your recipient. Use it wisely 🦉 and you'll make anyone's day a gigglefest! 🥳
You may also like to read: Good Morning Wife Messages & Captivating Quotes to Start Her Day Well
How to Use the AI Birthday Generator
Excited to try spreading love using our AI-generated compliments?  Let us share some tips and tricks to help you get started.
The first thing is to complete your prompt. ⌨️ Olivia will ask you a series of questions ❔ to make a tailor-fit compliment for your recipient. You will be inputting personal details such as the name of the recipient and your relationship with them, as well as additional information to make your message more personalized such as the tone of the compliment you want.
Remember: the more details, the merrier! 🎆 Talk about things you admire in the person, what they've achieved, and why you want to compliment them. Hit the Generate button and let the magic happen! 🧙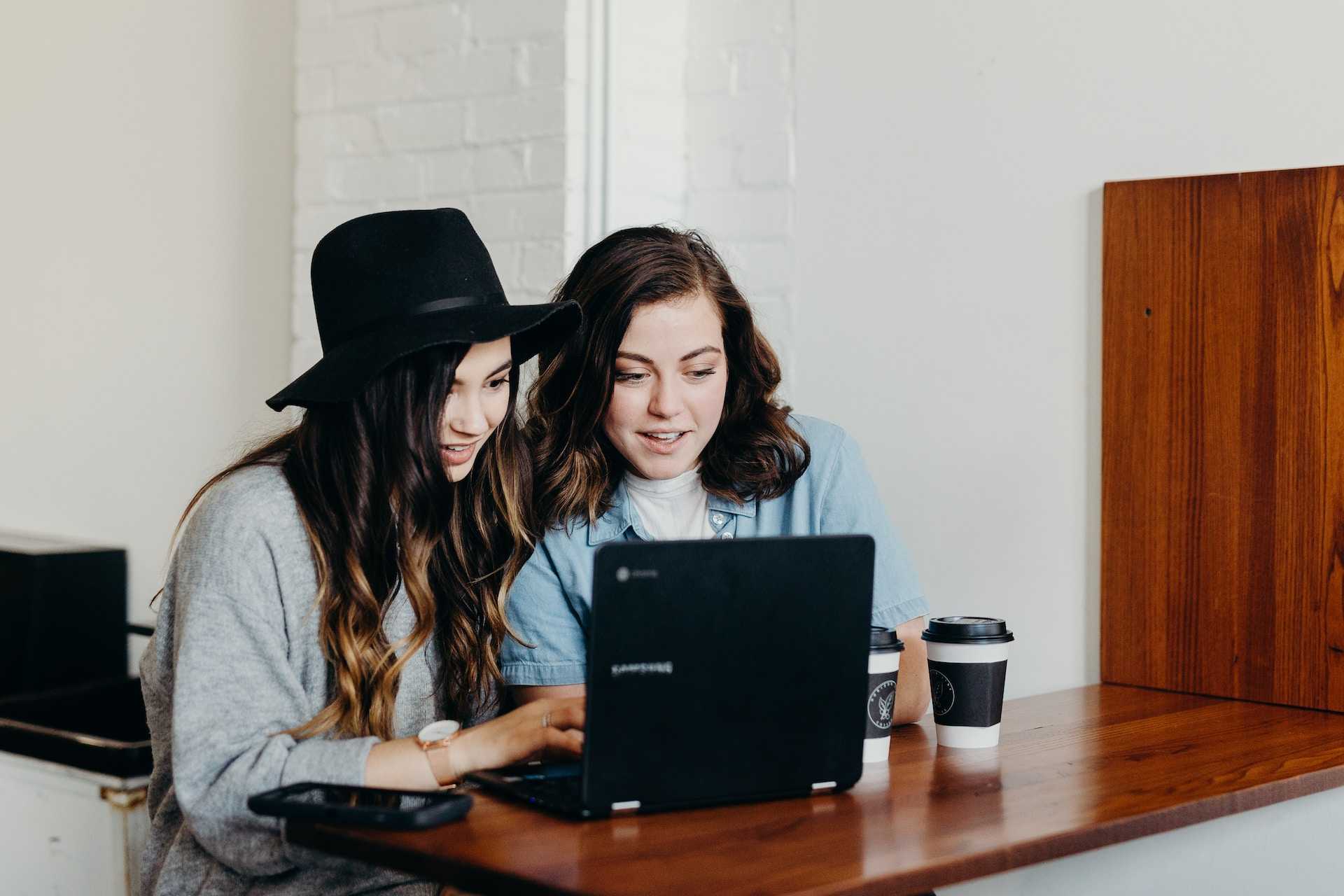 Photo by Brooke Cagle
Keep in mind that a toast-worthy 🥂compliment should be flattering yet authentic. To achieve that, make sure to highlight the characteristics you love about the person - their obsessions for their funky socks 🧦, their amazing skills in making omelets 🍳, or their sassy dance moves 🕺. This way, you show them that while you're proud of their achievements, you love them for who they are more!
We have many more ideas for compliments and other messages on our blog! For instance, head over there if you want examples of the best ways to say good night for her!
Don't forget that this AI compliment generator is your helpful assistant, and it's still up to you to make the best compliments. By putting as many details as you can, Olivia will be sure to create more personalized, heartfelt, and sincere compliments and kudos! Try it now and endorse your friend's acting talent 🎭, congratulate your sister for getting those A-pluses 🥇, and thank your mama for that terrific spaghetti. 🍝
From our AI generator, you copy and paste your generated messages in one of our virtual gifts. Choose a fun one, like the bubble wrap 🫧 or the virtual postcard 📩, and start spreading good vibes online! 😎
A Step-by-Step Overview of the Compliments Generator's UI
Ready to start spreading love? Meet Olivia, Gifft.me's AI generator. Olivia is here to help you find the best compliments and kudos so that you can share happiness with the people around you. 👐 Read the guide below to create your first-ever AI-generated compliment.
Click "Get Started" 🟢 to proceed with creating your compliments. 🤗
You will then find yourself on the "What to write" page. Here, you can choose the AI-generated message that you want to create. Click on "Compliment" 🌸 to start spreading positivity! ➕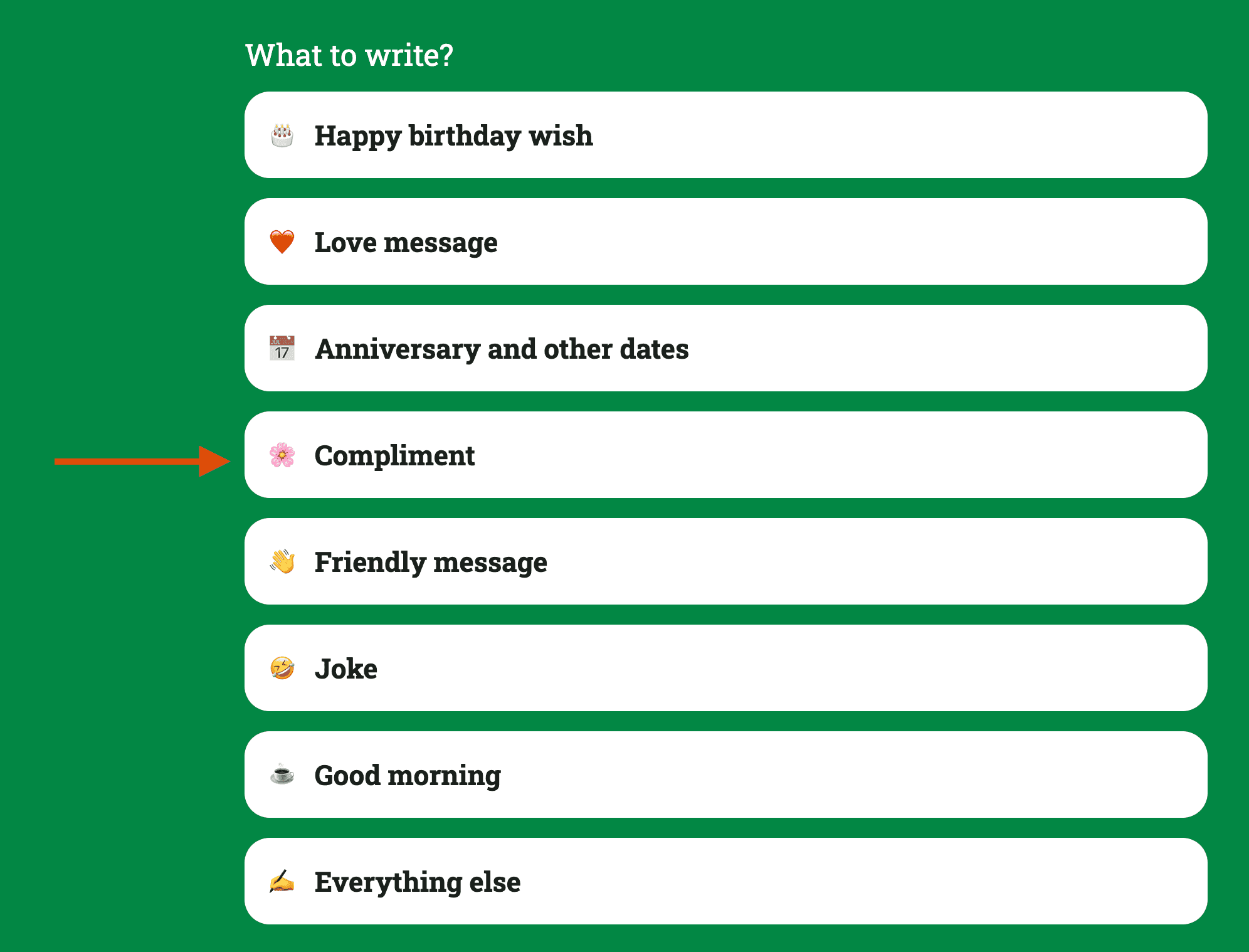 The next page is where you can begin crafting your compliment together with Olivia. You will be asked to answer a series of questions that will lead to creating your prompt. In the first step, input the name of the recipient and their relationship with you. 🤝
Next, choose what you want to compliment about the person. If you love your cousin's drawings ✏️, select "Creativity"! For your colleague who's great at what she does, you can choose "Intelligence" 👓. Note that you can select as many as you want, so feel free to be as generous as you want!
Lastly, type in your name.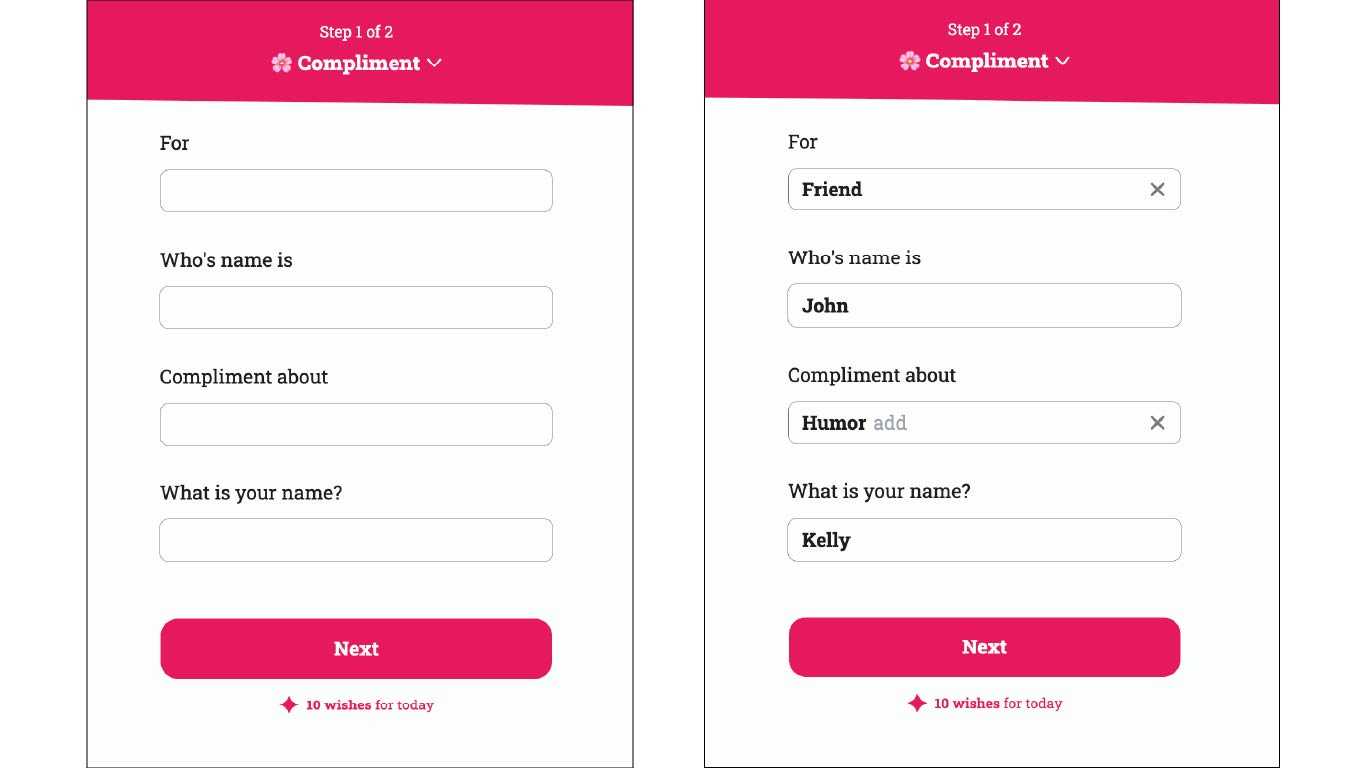 After clicking "Next", you'll be directed to the second and last step. Here, you'll be able to view the prompt that was generated based on your answers from the previous page. You can check the prompt on this page. If you want to update something, click on "Edit prompt" to freely type in whatever you wish to edit/add. 🖆 You can also click on "Back" at the bottom of the page to go back to the previous page and edit your answers.
If you're already satisfied with the prompt, you can proceed to choosing the mood of your message. If you're sending a compliment to your wife, try out a "Romantic" message to melt her heart!❤️‍🔥 If you're sending an encouraging compliment to your friend, you can select a "Friendly" tone.
Lastly, choose your message length and the number of emojis you want to be incorporated in your compliment. If you're complimenting someone you're close with, you can choose "Lots of emojis" 😀😗☺️ to spread more love and fun! Once you're happy with your choices, click on "Generate Compliment".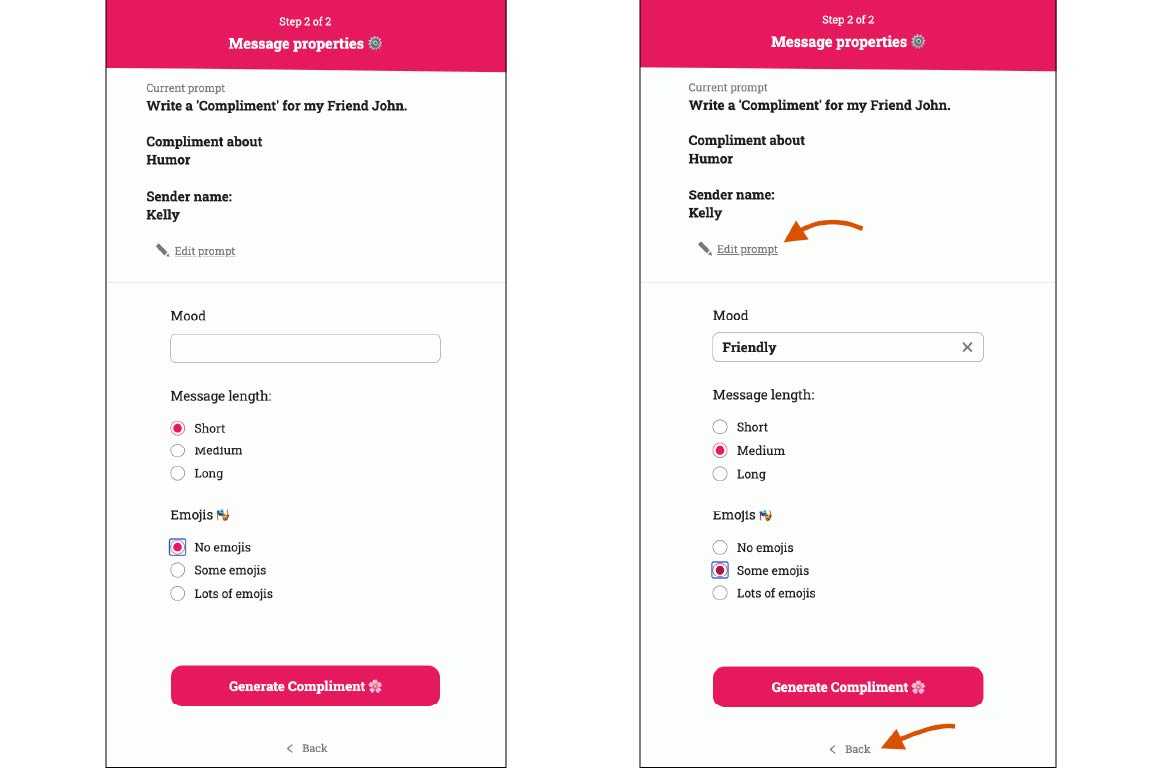 In just a few seconds, you'll already see Olivia typing your AI-generated compliment according to the preferences you set - like magic! 🪄 Once you see "Your message is ready", your compliment is ready to go! Found something amiss? Don't worry - you can click on the numbers below the message to see the variations of the compliment and find another one that fits your style better. ✅ Just remember, clicking on these variations consumes 1 message, and you only have 10 per day!
You can also click on "Edit prompt" at the lower part of the page to go back to the previous page, or "Generate new message" to generate another type of message.
Once you find the perfect compliment for your loved one, sending it is as easy as a few clicks! Click on "Copy text" and you're AI-generated message will automatically be copied. You can then paste it on your DMs or SMS and send it to your recipient immediately! 📱 If you want something more fun, click on "Send as virtual gift" 🎁to be directed to Gifft.me's virtual gifts page. Choose from a wide array of virtual gifts - love letters 💌, bubble wraps 🫧, or postcards ✉️ - and package your compliment in a unique and exciting way!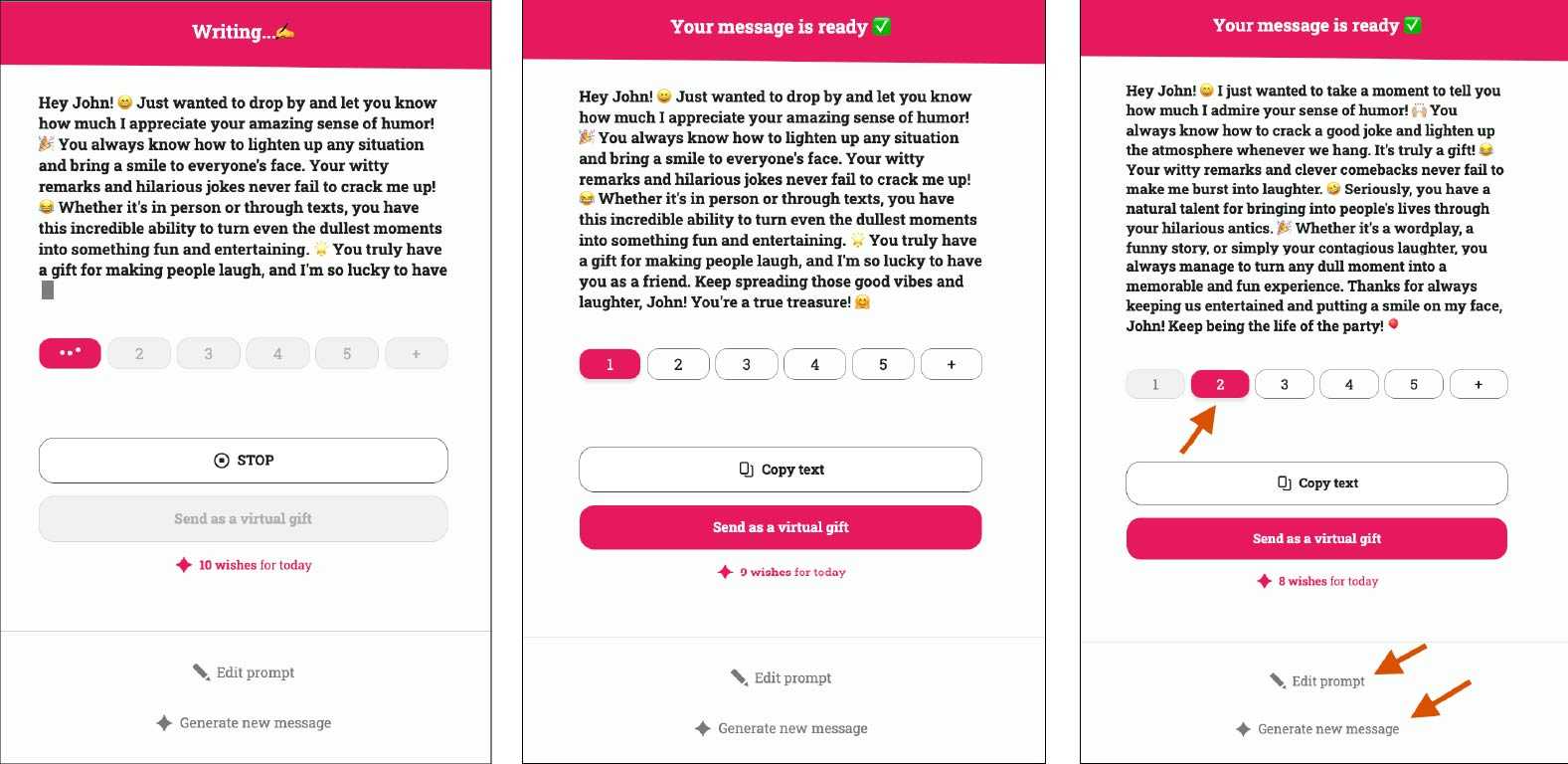 The whole process is easy, right? Now that you're ready, here are some tips for writing sincere and authentic compliments and kudos that will definitely make your recipients feel appreciated.
Some Tips to Use the AI-Powered Compliments and Kudos Generator 
To harness the power of Olivia to the fullest, we recommend to be as specific and detailed 📝in creating your prompts. For the AI compliment generator, you will only have to answer a few questions, but you can edit the prompt that will be generated in Step 2.
For example, if the trait that you want to compliment your friend with is her smile, you can edit your prompt to specify that you love her warm and welcoming smile 😁! For your workmate who is very passionate about his work, you can say that you admire his passion and dedication to his craft. Editing your prompt to be more specific will yield more personalized and sincere compliments! 💚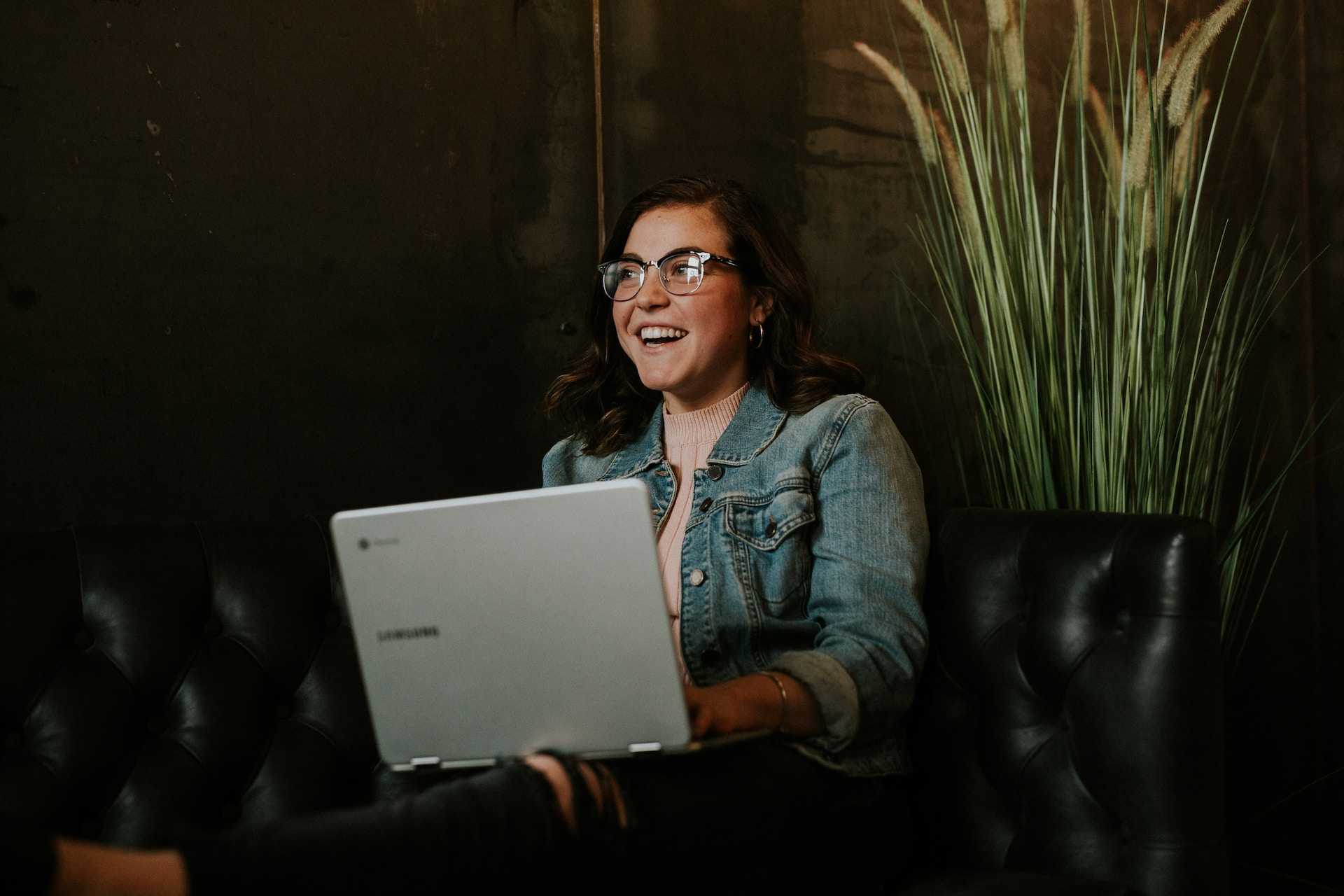 Photo by Brooke Cagle
When to Use our AI Compliments Generator
Gifft.me's AI generator is here to help you spread love by finding the right words at the right time. Sometimes, there are instances when you want to say something but feel speechless or awkward. 😶 Don't worry! With Olivia's help, you can still say what you want without the stress ✖️ of racking your brain for the best words.
If you're on a mission to spread positivity through giving compliments to the people you love (or even to strangers) but can't find the right words 🤔, seek Olivia's help! With Olivia, it's now easier than ever to spread love! 💗
Generate Your First AI Compliments Now!
With the tips we've shared above, get ready 😎 to become the queen or king of compliments 👑 Try out Gifft.me's artificial intelligence compliment generator and spread love no matter where you are in the world! 🌏The best part is that Gifft.me's services are all free!
Once you've nailed the perfect words, don't forget to check out Gifft.me's funny and free virtual gifts!  Package 🎀 your compliment with any of our virtual gifts and we're sure that it'll be a hit to your family and friends! 💯